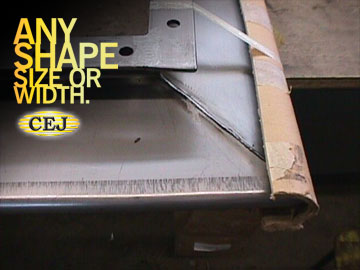 Finding a manufacturer who actually can fabricate a rectangular expansion joint is tough. Many say they can do it, few can actually execute the promise. Forming bellows is easy for us with our 36′ brake presses. Size is not an issue. We can shear up to 40′.
Custom Expansion Joints, Inc. fabrication facility includes a 20,000 square foot production area with a 10,000 square foot "high bay" building. This high bay contains two 5-ton bridge cranes with 20′ clearance.
We can process plate, angle, bar, sheet, pipe, channel, beam, carbon steel, a588, AR400, stainless steel, c276, titanium and aluminum.
We can shear up to 40′, seam-weld up to 20′, plate roll up to 20′, have brake presses up to 36′, and custom CNC any shape from 4' x 20'. Also we own multiple angle rollers and band saws.
At CEJ, we dedicate our efforts to provide quality custom expansion joints, to all of our customers. No job is too big or too small. Call us today to start the design process at 1-800-235-9259 or, feel free to email us too.
Here's some examples of our rectangular expansion joints (including some fabric rectangular expansion joints.