Custom Expansion Joints, Inc. has developed an exclusive forming method for the B&W-style bellows elements. It's made for the 21st century, and it significantly reduces the amount of welding.
Less welding means less opportunity for failure, which means good service life at a lower cost.
Limited only by the starting width of the material, we are able to form as many as 3 convolutions, 9" x 1.5" X over 32 feet long from one single sheet with no welds.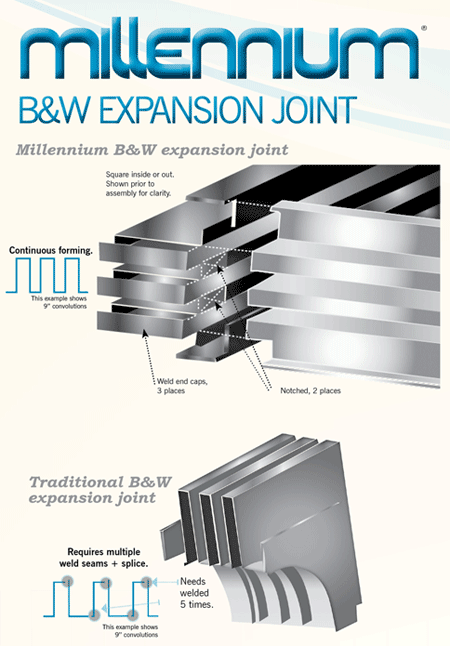 In conjunction with our unique forming method for the bellows sides, the Millennium® B&W-style Expansion Joint has a corner configuration that has even fewer welds than the traditional design. As the diagram shows, simplicity is the key.  Rather than the corner being a separate weld element, we notch and weld end caps to one of the long sections.  This produces a corner that is square inside or out.
| | |
| --- | --- |
| | |
| Check out a video of the Millennium expansion joint being bent on the brake press. | Check out a video of the Millennium expansion joint being seam welded together. |
Compare below, our lineal inches of weld for a 3 convolution to the competitor's lineal iches.  6'x30′ bellows (angle welding excluded.)
| | | |
| --- | --- | --- |
| Ours | Millennium Design | 1,863 inches |
| Theirs | Traditional Design | 7,465 inches |
Would you like to know more? Let us send you our data comparison sheet. (You'll be impressed).
Also, we can develop a B&W-style custom expansion joint made out other materials. We work  with 10, 12 or 14 gauge. Need another convolution style?  No problem.  We also work with 4'', 6'', 9'' 12'' convolution heights.
At CEJ, we dedicate our efforts to provide quality custom expansion joints, to all of our customers. No job is too big or too small. Call us today to start the design process at 1-800-235-9259 or, feel free to email us too.
© 2011 Custom Expansion Joints, All rights reserved. Any part of this article can not be reused without CEJ's permission.