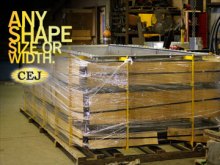 Any metal expansion joint can be developed in our large
fabrication facility
. Stainless steel bellows, round expansion joints,
rectangular
expansion joints (our specialty). Any size & shape you need.
Many say they can fabricate rectangular expansion joints. However, few in the industry have the real capabilities.
All our joints are designed according to the Expansion Joint Manufacturers Association (EJMA). There is a huge difference between our expansion joints and the competitors' expansion joints. Our expansion joints are custom engineered for proven reduced failure, and long life.
Whether you need a:
Gimbal expansion joint
Single Bellows expansion joint
Hinge expansion joint
Rectangular expansion joint (our specialty)
External Pressurized expansion joint
In-Line Pressure balanced expansion joint
Refractory Lined expansion joint
Tied Universal expansion joint
B&W expansion joint retro-fitted
We can engineer it.  And, you can save an incredible amount of shipping costs by ordering your expansion joints, ducts and dampers together.
Custom Expansion Joints, Inc., facilities include a 20,000 square foot production area with a 10,000 square foot "high bay" building. This high bay contains two 5-ton bridge cranes with 20′ clearance.
We can process plate, angle, bar, sheet, pipe, channel, beam, carbon steel, a588, AR400, stainless steel, c276, titanium and aluminum.
Our finishing capabilities include: sandblasting, painting, and plating.
We can shear up to 40′, seam-weld up to 20′, plate roll up to 20′, have brake presses up to 36′, and custom CNC any shape from 4' x 20'.  Also we own multiple angle rollers and band saws.
At CEJ, we dedicate our efforts to provide quality custom expansion joints, to all of our customers. No job is too big or too small. Call us today to start the design process at 1-800-235-9259 or, feel free to email us too.