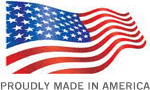 The United States of America is as important to CEJ, as it is to you.  That's why we buy our supplies and products from companies, here in the United States.
All of our products are proudly made in our two Kansas City, Mo. metro facilities. The facilities include a 20,000 square foot production area with a 10,000 square foot "high bay" building. This high bay contains two 5-ton bridge cranes with 20′ clearance.
We also ship to anywhere in the world. Our expansion joints are in service in many countries, including (but not limited to): Mexico, Canada, Europe, Russia and countries in South America.
At CEJ, we dedicate our efforts to provide quality custom expansion joints, to all of our customers. No job is too big or too small. Call us today to start the design process at 1-800-235-9259 or, feel free to email us too.